Oil Free Wellington, is sending a clear message to Statoil; that they, and the fossil fuel extraction they come to profit from, is unwelcome in Aotearoa/New Zealand. A banner saying this has been signed by hundreds of New Zealanders and has been posted to Statoil's offices in Oslow, Norway.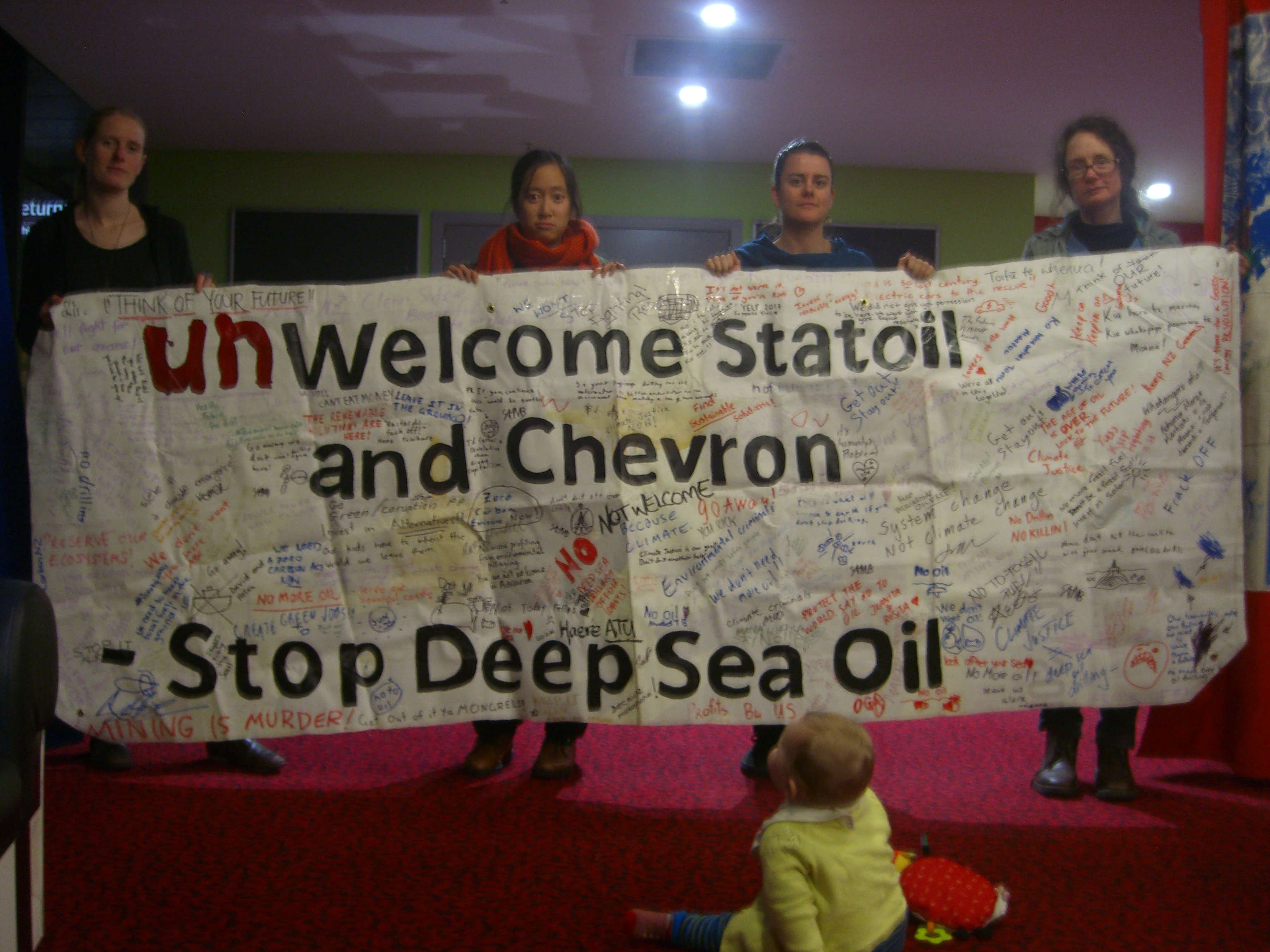 This comes at the same time as revelations by Greenpeace that Statoil and Texan oil giant Anadarko have contracted an agency to spy on the environmental movement in Aotearoa New Zealand.
Fossil fuel exploration, both in New Zealand and worldwide has to stop, we are getting dangerously close to catastrophic climate change, to prevent this we can't burn all the fossil fuel's we've already found, let alone keep hunting for more.
In November 2016 over hundreds gathered, in New Zealand's capital to protest the presence of the Amazon warrior, commissioned by Statoil, which was doing seismic blasting in our waters. People from all over Wellington came to add their message to the banner, and to tell Statoil to leave.
Statoil, along with Chevron, currently holds permits for oil exploration in over 25,000 square kilometres of New Zealand waters in the east coat, and in Pegasus Basin, Southeast of Wellington. Since receiving the permits in 2014, they have faced staunch opposition in Aotearoa, especially from indigenous Maori, who in 2015 sent a delegation from Northland to speak at the annual shareholder meeting in Norway. Despite this, their "report of iwi and hapu engagement" available on the Statoil website, makes no mention of opposition, and paints a positive reception.
While Norway leads the way in sustainable energy production at home, with 99% of  mainland energy production from hydro-power, there is a different story behind the scenes. Statoil, a state owned enterprise is present in more than 30 countries around the world, generating over 45 million USD in revenue in 2016 from fossil fuel extraction. Their sustainable energy empire is funded by profits from extraction of fossil fuels in many countries around the world.