The annual Oil Summit is happening in Wellington March 26-28 at the TSB Arena, Wellington. Help stop it!

Rally for Climate Justice
On Tuesday, March 27, 7am, Oil Free Wellington, with the support of many groups will be marching from Frank Kitts Park to the TSB Arena, Wellington, for a rally for climate justice and a blockade of the oil summit. Every year representatives from oil companies come together to schmooze and find ways to make money from oil and gas – even as the world struggles to adapt to the lethal effects of climate change caused by pollution from these industries.
Things will be running until roughly 4pm so come along when you can.
It's never been more important to stand against oil and gas and stand up for a fair and sustainable world.
For more information and help with accommodation please register at https://www.rallyforclimatejustice.nz/ for more info.
Monday 26th, 6pm -9pm, Wellington Central Baptist Church, Blockade Briefing/NVDA Training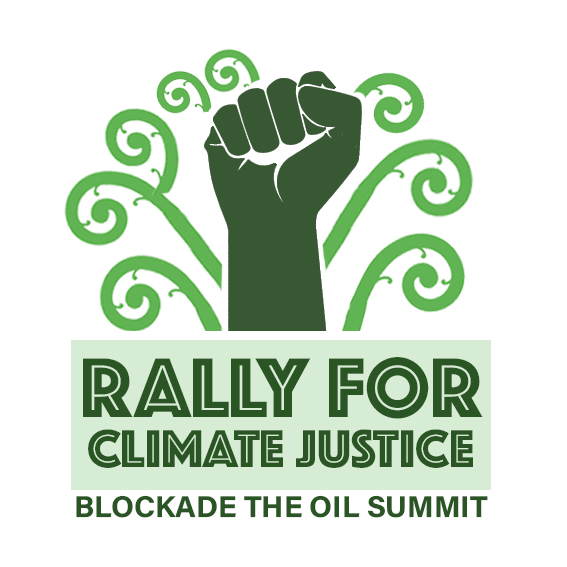 Opening ceremony with flower power
On Monday, March 26, 12:15pm at Frank Kitts park, 350.org and other groups will be sending a flower power message to the government and the oil companies to end fossil fuel exploration.


Information Day: Moving on from Oil and Gas, Nau Mai Haere Mai
The day before the PEPANZ conference begins, don't miss this opportunity to find out more about the connections between NZ's oil and gas industry and: sacrificed communities, endangered marine life, water issues, man-made climate change and our backyard BBQ's.
When: 25 March at 10:00–17:00
Where: The Dowse Art Museum, Lower Hutt
Speakers include: Ihaia Puketapu, Teanau Tuiono, Sarah Roberts, Dr Mike Joy, Jeanette Fitzsimons, Dr Lyndon DeVantier, Fiona Clark and more. A full program will be available mid-March on www.climatejusticetaranaki.info. For more details email Jean Kahui at: frackfreeaction@outlook.co.nz.

See you there!
Oil Free Wellington