Rally for climate justice: Blockade the Oil Summit
The annual Oil Summit is happening in Wellington March 26-28. Help stop it!
Rally for Climate Justice
On March 27 Oil Free Wellington, with the support of many groups, is holding a rally for climate justice and a blockade of the oil summit in Wellington. Every year representatives from oil companies come together to schmooze and find ways to make money from oil and gas – even as the world struggles to adapt to the lethal effects of climate change caused by pollution from these industries.
It's never been more important to stand against oil and gas and stand up for a fair and sustainable world.
The companies are keeping the venue secret, we can tell you that it is in central Wellington and  we will find out more soon. Please register at https://www.rallyforclimatejustice.nz/ and we will let you know more as soon as we can.
Help the sun flower
On March 26, 12:15pm at Frank Kitts park, 350.org and other groups will be sending a message to the government and the oil companies to end fossil fuel exploration.
More details will come soon so, once again, please register at https://www.rallyforclimatejustice.nz/ and we will let you know more as soon as we can.



Accommodation
Many people are coming from outside of Wellington. We have arranged accommodation for friends traveling from around Aotearoa for Sunday, Monday and Tuesday night. If you will need accommodation please let us know by registering.
https://www.rallyforclimatejustice.nz/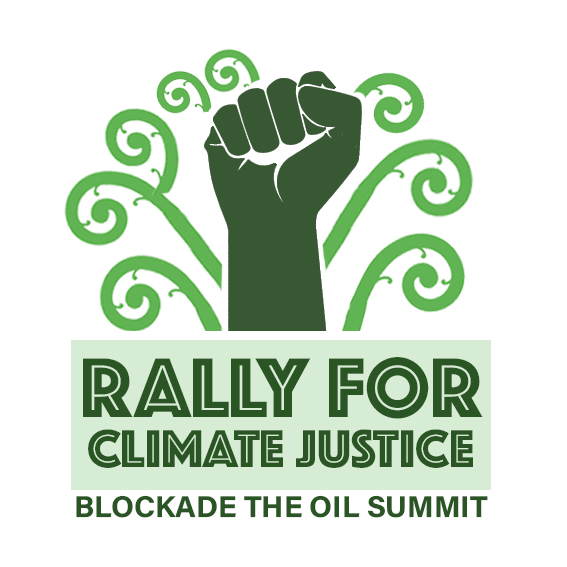 What else can you do?
Chip in to support the fight to stop the polluters
We really want make the upcoming Rally For Climate Justice as impactful as it can we. We want to make sure everyone has an empowering, successful, and safe blockade.
To do that, we need your support. Could you chip in to help cover costs for food, equipment hire and materials? Every donation helps! 🙂
Wellington NVDA training announced!
We're pleased to let you all know that we'll be running NVDA training in Wellington!
When:

Sunday 18th March 10am-1pm


Where: Newtown Community Centre
If you're in Wellington come and join us to hear from local environmental campaigners and prepare for the blockade with Non-Violet Direct Action training! Featuring speakers from Oil Free Wellington, Te Ara Whatu and more to be announced. Everyone welcome, snacks provided. Find out more.
How to stop an oil conference
Thanks to 350 Christchurch, who will be hosting an awesome NVDA training session to prepare for the blockade!
When:

17 March, 14:00–17:00


Where:  217 Ferry Rd, Waltham, Christchurch 8011
The training will cover background on the oil conference and the planned resistance, training in blockading techniques and roles, legal briefing for blockaders, talking to media, and connecting with transport, accommodation and other blockaders making the trip to Wellington. Find out more.
Information Day: Moving on from Oil and Gas, Nau Mai Haere Mai
The day before the PEPANZ conference begins, don't miss this opportunity to find out more about the connections between NZ's oil and gas industry and: sacrificed communities, endangered marine life, water issues, man-made climate change and our backyard BBQ's.
When:

25 March at 10:00–17:00


Where: The Dowse Art Museum, Lower Hutt
Speakers include: Ihaia Puketapu, Teanau Tuiono, Sarah Roberts, Dr Mike Joy, Jeanette Fitzsimons, Dr Lyndon DeVantier, Fiona Clark and more. A full program will be available mid-March on www.climatejusticetaranaki.info. For more details email Jean Kahui at: frackfreeaction@outlook.co.nz.